Interview
The

Gaspé

Peninsula's

Rencontres

internationales

de

la

photographie

or

the

democratization

of

visual

art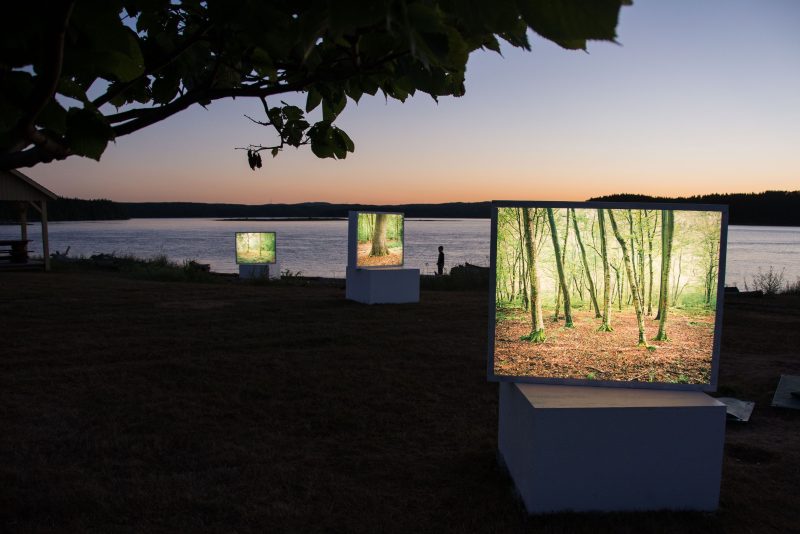 On a beautiful summer morning, you visit one of Quebec's most beautiful regions: the Gaspé Peninsula. You may be strolling through Chandler, Paspébiac, or even Percé. The sun is beating down, the air is cool and, without knowing it, you come across an exhibition of photographs by artists from here and elsewhere. You've just stumbled upon one of the 18 installations presented by the Gaspé Peninsula's Rencontres internationales de la photographie.
When we reached him by phone, Mr. Claude Goulet, the general and artistic director of the Rencontres, was wandering in the middle of nature, so much so that the line cut off at times! We're not even sure which of the twelve participating parks, towns, and villages he was working in. From the outset, he warned us that he didn't have enough time to tell us about his festival, as he was preparing for the event. However, as soon as we started talking, the founder didn't seem to see the time passing by, which goes to show how passionate he is.
In 2009, he first decided to present a photo project to highlight the region. "I had thought of a project that would bring together five photographers. They shared the territory. The goal was to document the territory and to raise awareness of the fragility of the landscape and human intervention in the environment." The success of the event, coupled with some key meetings, encouraged him to create the Rencontres internationales de la photographie on the Gaspé Peninsula the following year.
From then on, the exhibitions no longer focused explicitly on the Gaspé Peninsula. This year, they are united by a common theme that is very topical: "Radical Hope." "With this theme, we wanted, first of all, to show how artists have continued to create despite the pandemic. We also wanted to talk about the importance of having faith that things can change and improve," he adds.
It's true that in 2022, we all need a little more hope in our lives. And that's just as well because the exhibitions and works are open to everyone free of charge. The founder is particularly proud of the fact that the event remains free: "It's very democratic to present visual art outside. People discover contemporary art in a place where they never expected to see it in this way," he explains.
"And people do come! Some people even extend their stay in the Gaspé region thanks to our event!"
The Gaspé Peninsula's Rencontres internationales de la photographie run from July 15 to September 30 inclusively. With free exhibitions "from the Matapedia to the Petite-Vallée regions," there is no excuse to miss them, especially if you are visiting the region this summer!
To take a look at the schedule, click here.

FAR - Festival des arts de ruelle | photo: Carl Desjardins

FAR Festival des arts de ruelle | photo: Jasmine Allan Côté

FAR - Festival des arts de ruelle | photo: Amélie Bilodeau

CHAPO Festival d'amuseurs publics | photo: LP Lemay