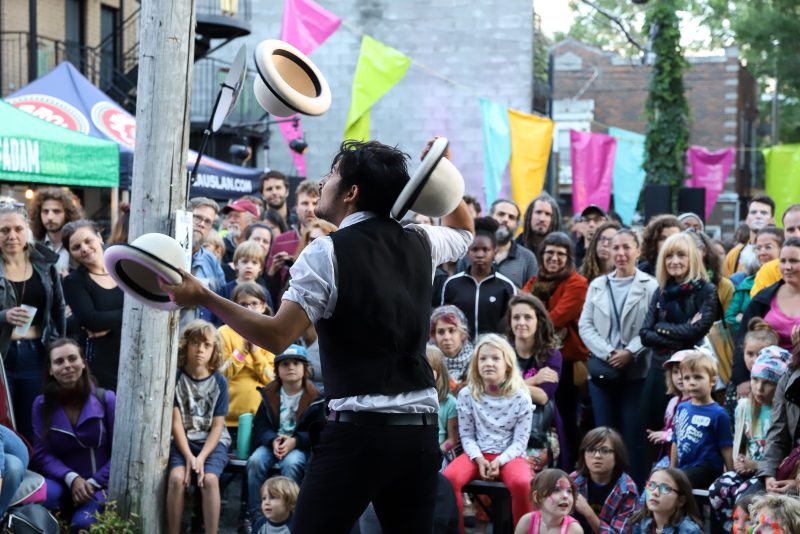 August 28 until September 10, 2023
FAR Festival des arts de ruelle
You glance out your window and you see it: a feverish crowd filling up the alleyway you walk through every day, slowly gathering around a band of lively musicians as they tune their instruments. You walk out to join the unexpectedly wonderful spectacle and before you know it, you're surrounded by neighbours, cheering and enjoying a concert in the toasty warmth of a late summer afternoon. That's FAR.
All You Need To Know
About the FAR Festival des arts de ruelle
Le FAR (Festival des arts de ruelle), founded by Léa Philippe in 2017, presents performances in the lanes, decentralizing artistic proposals to bring them to cultural neighborhoods, closer to the citizens. The FAR opens different artistic practices, daring to offer a vibrant and inclusive program in the naturally intimate and friendly setting of back alleys. Since its creation, the event offers each year an eclectic open-air program made of short performances, and from these atypical proposals, new artistic expressions emerge. The FAR, proudly anchored in the cultural and event calendar of Quebec, usually unfolds from late August to mid-September and culminates the weekend after Labour Day, a thoughtful momentum.
À travers les yeux d'un artiste de la programmation 2021
Enjoy Montréal Like Never Before